European Visit (UK / France / Holland / Belgium)
Visited July 2015
"Last July I travelled to Europe for almost a month. I had the best of time as my tour agent Santha was extremely helpful and did a perfect tour for us.. There were 5 of us and we travelled to London, Liverpool, Paris, Amsterdam and Belgium.
She was there for us all the time and spent so much of her time on our plans. I am really very grateful and jubilant about this tour. I recommend this Travelserv tour strongly to all.. I will definitely travel back to Europe with the same tour." Lavan,Dhars,Vignes,Murali, Suuria
European Visit (Venice / Edinburgh / Dublin)
Visited April 2015
"Thank you so much for organising our trip in such a timely fashion, ready at all hours to answer my questions and working with me so last minute! The trip was suited for my uncle's needs, him being 70 – a coach trip worked well and meant we didn't have to do the thinking and planning for a refreshing change!
I would definitely recommend you to friends looking for organised tours. You have been a real pleasure to deal with. Thanks for all! " Anusha.

Lourdes
Visited March 2015
"Thanks for arranging our lovely trip to Lourdes. The flight was good and we enjoyed staying in Saint Sauver where the staff were very nice and the hotel was very clean.
I will strongly recommend Travelserv to others and am looking forward to booking future holidays with you." Kala
Singapore
Visited November 2014
"Just a note to thank you for making all the arrangements for my recent visit to Singapore. From the moment I stepped onboard the Singapore Airlines aircraft, I felt myself in very safe hands.  The hotel staff on arrival could not have been more professional if they had tried (Swissotel Merchant Court) and the all-day guide from Star Mart was just perfect.
 All in all, a very satisfactory holiday with many great memories.  Be sure that if any should ask, I would have no hesitation in encouraging them to make contact with you because you seemed to go the extra mile in everything you did for me. Many thanks for everything." Chris
Holiday to Singapore / Kuala Lumpur / Penang / Langkawi
Visited July 2014
Thanks for the booking for both trips recently! The boys thoroughly enjoyed it and the hotel choice was a good one. The transfers were decent too." – Mehul, Waseem and Sachin
Group Pilgrimage to Lourdes
Visited July 2014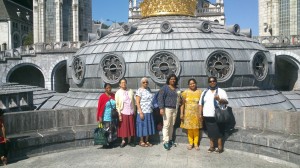 "May I take this opportunity to thank you for arranging a wonderful trip to Lourdes, we felt we were very well looked after by you, and that you had made lots of effort made to make us satisfied.  I really appreciate that.  Our members said that they enjoyed the trip very much, even though the traveling time was very long.
They said they enjoyed the stay at Lourdes, which was very beautiful, peaceful and very holy … some of the members said that they felt refreshed and enjoyed the good vibe in that area. Santha was very helpful to guide the elderly and look after their needs.  The hotel was very clean and the food was nice as well. 
Paris – Mass at the chapel of the miraculous Medal on the Rue du Bac visit was enjoyable as well had the opportunity to take pictures. Thank you so much for all the help you provided to our members." – Tamil Relief Centre, Edmonton
2 Holidays, Amalfi Coast / Rome and Zurich
Visited June 2014
"Thank you so much for organising two wonderful holidays for us. We always appreciate all the hard work and effort you put into organising our holidays. You are truly brilliant at what you do." – Punit and Bina
Family Holiday in Malaysia
Visited December 2013
"Thank you for everything you have done for us, we really appreciate your holiday planning and prompt replies during our trip. Malaysia is a beautiful country. We visited Penang Hill and went on the cable car -. It was so scary.
The shopping malls are very big and beautiful, quite unlike our Perth (Australia). We went to the Batu Cave as well and saw that nature has given a lot to Malaysia, it s so beautiful and we didn't want to come back. The hotel's service and food was good, we had lots of Rambuttans and Mangosteens, and after so many years, we had fresh coconut juice. Thank you once again, for your excellent service." – Arul and family, Australia
Queens Own Highlanders
Visited March 2013
"Had a wonderful holiday, everything about it was great. We had a good laugh in Brunei when they gave us two champagne glasses with a bottle of water. The hotels really pulled out all the stops for our diamond anniversary. Thank you so much. The holiday was so well organized, we have not got a bad thing to say about it." – Tom and Tilly Stephen
"Thank you our trip was 1st class, all down to your hard work thanks for everything, well done." – Neil Macaulay
"… the trip was first class, your tour guides made the journey all worth while with their local knowledge and their very friendly way of putting things over. The accommodations' were excellent again with very helpful staff. The whole journey was well worth the costs. Again thank you very much for organising the trip it was a good trip down memory lane." – Lt Col Richard Turner
"Just arrived home from the Queens Own Highlanders tour and would like to thank you for a superbly organised and most enjoyable holiday. The itinerary was excellent and all the guides were very knowledgeable and interesting. I hope all the others enjoyed themselves as much as my wife and I. Thanks once again." – Harry Fynn
"I would like to thank you for all the work you did on our behalf as the tour was outstanding success for all of us who took part. Thank you for one of the best organised holiday I have ever had." – George Fraser
Kings Own Scottish Borderers
Visited March 2010
We were recommended Travelserv by a friend and I will say from the outset my wife and I have not been disappointed.
The service Santha provides is exceptional, she will aim to deliver all your requests and the best thing is you can reach her at any time of the day (literally!)
All our recent holidays have been organised by Santha and they have been of excellent quality and reasonably priced too!
The great thing about the company is she does all the research for you, and we enjoy the holiday!!! The service she provides is brilliant, and she does it smiling, lovely person!!! Would not go any where else!" – Punit Patel, Kenley, Oct 2011
"Travelserv planned and organised my entire honeymoon from start to finish. The service was exceptional and always willing to help. The hotel in Bali was absolutely amazing thanks to Travelserv, with all the extra perks arranged by them for us. I will definitely book future holidays with them!" – Sachin Malde, Canterbury, Jun 2011
"Absolutely Fantastic!! Santha organises everything efficiently and quickly with a happy attitude. No customer service problems on the few holidays we have booked with her. She's always there when we need her whether home or abroad. Booking with Santha and Travelserv is and always has been literally hassle free. Highly recommended and I plan to book all future holidays with her. PS. she gets the BEST prices!!" – Mr. Chirag Patel, Maidstone, Jun 2011
"… thank you for all you did to make our holiday so perfect, or as I said, paradise. Thank you once again for all your hard work." – Margaret & George, Edinburgh, 2010